1. Why would you want to build a Divi website?
There are many reasons why you might want to use a Divi website. WordPress was pretty groundbreaking when it came out. People were impressed with how simplified the process of building a fully functional website was.
Divi is a WordPress theme that reinforces this concept and takes it to the next level. With this theme, you can create a more advanced and aesthetically pleasing website in the shortest possible time.
2. How to build a Divi website – 4 steps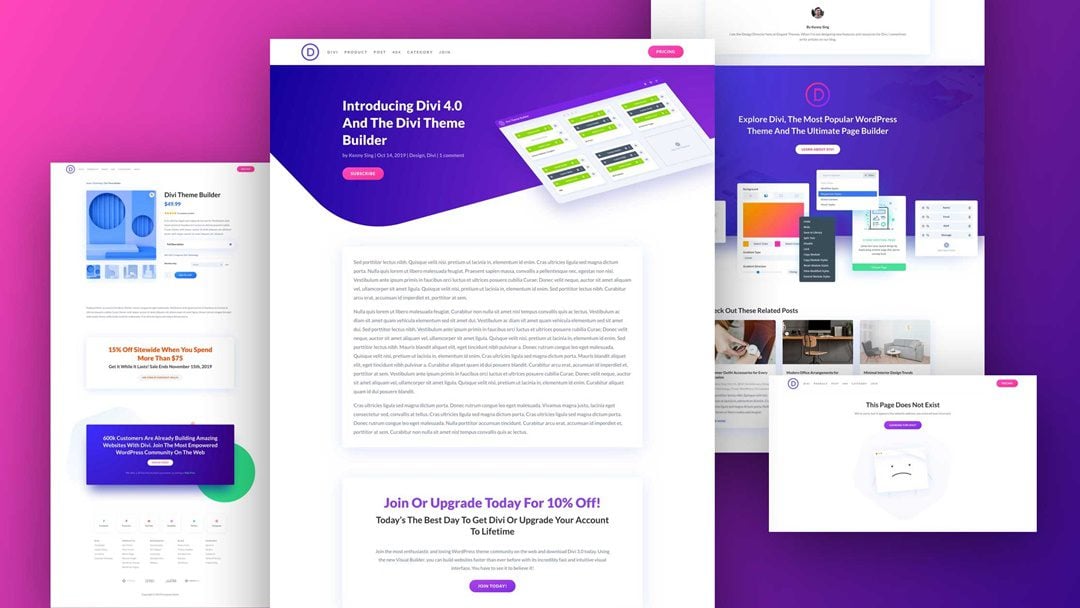 Maybe you've heard of the simplicity and power of the Divi theme. Web builders love it and business owners can't get enough. This intuitive website builder with its various modules and features allows you to drag and drop your own unique website in no time. You don't even have to be tech-savvy to use it!
So, if you're going to build your own Divi website using the Divi WordPress theme to make your business more visible online, but you're looking for a starting point, then this step-by-step guide might be just the thing for you.
1. Installation of WordPress
Before you can build a Divi website, it's a good idea to start by designing your website. Before building in the Divi theme, you need to install WordPress if you haven't done so already. You can find the definitive guide on installing WordPress on the WordPress.org website. You can read more about WordPress in this article.
After the installation is complete, you will notice that your WordPress website looks clean and simple. But of course you don't want your website to look standard. You want to stand out from your competitors. And that's where the Divi theme comes in.
You can easily build a Divi website because Divi offers a lot of possibilities to customize your website. You can literally build any kind of website you have in mind. And the best part is that Divi uses a visual website builder where you can see what's happening right away. This is in contrast to many other themes where you use fill-in-the-blank fields to place the content and thus have no visual support.
2. Setting up Divi Theme
Divi is a premium theme, which means you have to pay for it. On the elegantthemes.com website (the developer of Divi), you can choose a version according to your budget: annual license and lifetime license. The main difference is that with the Lifetime Access package you get lifetime updates, support and access to all themes and plugins.
If you pick the annual license, it doesn't mean your site won't work when your license expires. It will continue to work, but you just won't have access to the latest features and updates after that.
You can try Divi for 30 days with the right to get your money back…
3. Upload and activate Divi Theme
Once you're done with the signup process, go to the Elegant Themes login page to access your account. You can download the Divi theme from your member area there.
Save the download (.zip file) somewhere on your laptop or computer for easy reference.
Go back to the dashboard of your WordPress website, go to Design → Themes and click on Add new and then Upload Theme.
You will be taken to the next step where you can upload your chosen theme. Click Choose File to find the Divi theme you downloaded, then click Install Now.
When the upload process is complete, click Activate, and your Divi theme will be installed successfully.
You are now ready to build a Divi website.
If there are some technical parts you need help with, you can find any video and walkthrough tutorial you need on the elegantthemes.com website. There are also plenty of underlying tutorials available there to make creating your site even easier.
Now for the fun part, building a Divi website with the Divi Builder! This is the tool you're going to use to build your site pages.
4. Using the Divi Builder for your website
To create a new page for your WordPress blog, navigate to the sidebar and click Pages → Add new
You will be taken to the normal WordPress screen to edit your site. This is done using the purple "Use the Divi Builder" button at the top.
Scroll down until you see the drag & drop Divi Builder, where you will build your page.
If you're going to build a Divi website, here are some basics you need to know:
Blue section

.
This is a representation of the sections that can contain rows of modules.

Green section

.
This is a view of a row within a section on your page.
Loading from library.
Divi has plenty of predefined layouts that you can use if you just don't want to design the site yourself. You may want to go in this direction if you still haven't mastered things. These customizable layouts are very useful, and you can get inspiration from them.
Duplicate a section, row or module.
Simply click the duplicate button that looks like a pair of overlapping boxes to the left of that section, row or module.
Edit section, row or module settings.
To do this, click the three-dash symbol to the left of that section.
Feeling overwhelmed already?
Don't worry, you'll quickly get the hang of it once you've played with the Divi theme. As they say, experience is the best teacher.
4. Building a Divi website by just starting?
So now that we have all that behind us, click on the green "+" button to insert a row and column(s).
A pop-up window will appear with layout items for you to choose from. Select the one that is appropriate for the selection you have in mind.
For example, select an option that splits the section into three if you want to create a section on your website with three text boxes and three images.
Then you can start placing the modules you need. You have a lot of options for this. So for the example above, click on Insert modules, then select Image and then upload the desired photo. Repeat the process on your other two modules.
Using the same process, you can then add any text you like under each image. But instead of selecting the Image module, select Text instead.
Isn't that as hard as you thought it would be? Again, if you want to make the process even easier, you can always get a child theme, or I can build a Divi website to your specifications, so you can easily use your Divi website yourself.
You don't have to be afraid to create your own WordPress website by building a Divi website. It offers plenty of customization options for users and endless design possibilities. You can build any type of website you want, from complex to simple, depending on your brand and specific preferences.