Before we talk about having the best graphic tool for your Divi website… Divi is one of the most widely used themes for website design. However, it's always a good idea to have the Best Graphic Tool that work well together with Divi to make the design and content process much easier. Regardless of your level as a graphic designer, efficiency is key when tackling new projects. Efficiency in this case means working faster and producing higher quality.
Fortunately, these days, it is a lot easier to become efficient and inspired by the development of do-it-yourself tools and resources that you can find online. So with that in mind, I've compiled a list here of the 10 best free Divi tools that all Divi web designers and content managers should know about.
The basic premise behind these tools is that they are free to use (some have a pro version that requires payment).
Best Graphic Tool 1. Inkscape
Inkscape is an open-source and free vector graphics editor that you can use to build your Divi website. These Divi tools can be used to create vector graphics, mainly in SVG format, and to import and export other formats.
It can also render primitive vector shapes, including rectangles, arcs, stars, spirals, polygons and even 3D frames. It allows you to fill these objects with patterns, solid colors and linear or color transitions. In addition, you can enclose the edges of objects with a stroke.
Inkscape also supports optional tracing and embedding of raster images. Therefore, you can create vector graphics from photos and other raster sources. This tool is very easy to use and has a nice layout that you can easily customize, so you can finish the job perfectly.
Best Graphic Tool 2. Krita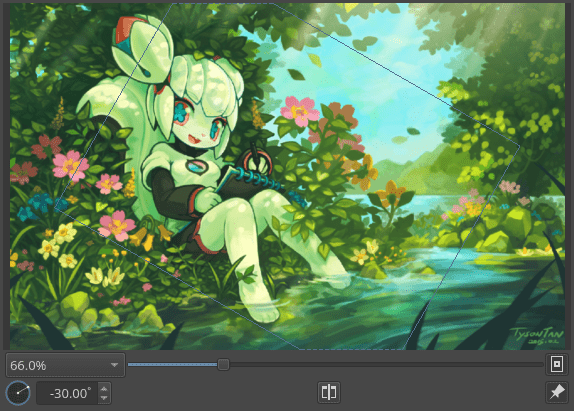 Krita is an open-source professional painting tool that should not be missing from your Divi tools. It was created by artists who want to make art tools accessible to everyone.
This free graphic design tool, combined with Divi, is excellent for creating illustrations, comics, texture patterns, and concept art. It also comes with image and photo editing functions. It also offers advanced drawing tools such as vanishing points, flowing shapes and layering masks, as well as templates and customizable brushes and tools.
Best Graphic Tool 3. Blender
Blender is an open-source 3D graphics package ideal for animators, videographers and artists. It lets you do everything 3D, including modelling, animation, rigging, simulation, rendering, compositing and motion capture. You can also use it to edit your videos, and it also supports 2D animation.
This tool has a steep learning curve. Nevertheless, you can do just about anything 3D with it. Moreover, it works with Mac, Linux and Windows. Ideal to provide your Divi website with beautiful animation videos.
Best Graphic Tool 4. Gimp
GIMP is the abbreviation for GNU Image Manipulation Program. The free distributed program is a powerful image editor for creating high-quality images. You can perform a wide range of tasks here, including retouching photos, compositing images and creating graphics. With these Divi tools, you can create your own graphics and illustrations.
Moreover, it has an advanced scripting interface that allows you to do everything from the most complex manipulation procedures to the simplest tasks that can be easily scripted. For example, in Gimp you can easily resize, crop, or adjust large images for your Divi website.
Best Graphic Tool 5. Gravit Designer
Gravit Designer is a free full-featured vector graphic design app. It works on all platforms, allowing you to create designs and unlock the full potential of your creativity. The app comes with flexible and fast tools that are suitable even for professional designers. These include an SVG editing tool, presentation, options to set the height and width of the document and 19 preset sizes for printing. If you like this tool, it's perfect to add it to your Divi tools to use in conjunction with Divi.
Best Graphic Tool 6. Unsplash
Free photos to use in your website can be found at unsplash.com. Unsplash grants you an irrevocable, non-exclusive, worldwide copyright license to download, copy, modify, distribute, perform and use photos from Unsplash for free, including for commercial purposes, without permission from or attribution to the photographer or Unsplash.
The photos on Unsplash are made by (amateur) photographers all over the world.
A perfect website to find photos for your Divi website. In combination with the other Divi tools on this website, you can customize the chosen photos to your own taste, making your Divi website look even more professional.
Best Graphic Tool 7. Vecteezy
Vecteezy is a platform where you can find thousands of free vector graphics from their community of designers around the world.
The Vecteezy Editor is a free SVG editor that you can use to modify the files offered to fit your Divi project. The editor extends the functionality of the Vecteezy content so that you can modify it before downloading it. Or you can use it with your other Divi tools to create your own vector designs from scratch right in your browser.
Best Graphic Tool 8. Canva
Canva makes it easy to create beautiful designs and documents.
This free online graphic design software has a drag-and-drop interface just like Divi and offers professional layouts that you can use to create consistent graphics.
In addition to the ready-made templates, you can also create your own designs and images for social media, your Divi website, e-books, documents, events, advertising and marketing. What's more, it offers plenty of customization features to suit your brand. A great addition to your primal Divi tools.
Best Graphic Tool 9. Raw Therapee
RawTherapee is a robust, free, platform-independent image processing program. You don't need to log in or register. Just download it.
This tool offers a powerful set of tools that allow you to take great photos and express your creativity. It is a good choice for those looking for free photo editing software. And while it comes with similar photo-editing power as Lightroom, it is much better at color correction. Adjusting your photos for your Divi website is perfectly possible with this software and should therefore not be missing from your favorite Divi tools.
Best Graphic Tool 10. Sumo Paint
Sumo Paint is an online image editor and painting app comparable to Adobe Photoshop. It also contains similar functions to those of Pixlr.
The free version of this design tool, which you can use to add catchy images to your Divi website, includes filters, drawing tools and image manipulators. It is fast, smooth and very versatile. You can draw images or combine images using text elements, symbols, filters, more than 300 brushes and numerous unique effects, and it fits perfectly in this list of Divi tools.
These are 10 of the better, if not the best, free graphics Divi tools that all Divi designers should know about. There are of course many more free resources and tools available to perfect your Divi website, but the Divi tools in this list will definitely make your life as a Divi builder or Divi content manager a lot easier.